I had another exciting e- mail interview with
Alexan
der Kjerulf ,who is also known as 'The Chief Happiness Officer'.
Alex is the author of '
Happy Hour is 9 to 5'. He regularly blogs at http://positivesharing.com
I love his writing, which is directed towards infusing happiness at workplace :-)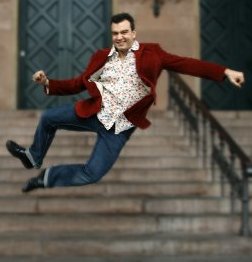 Following is the transcript of the interview [The interview will be published in the MA-HRM,MSSW newsletter, 'Hurricane' soon. The editorial team consists of Prashant aka Prash, Vivek,Nivedita and yours truly :-). 'Hurricane' promises many more exciting interviews,articles,case study,humour and much more....] :
Saikat: What is your book 'Happy hour is 9 to 5' all about?
Alex: It's about happiness at work. It shows how each of us can come to love our jobs and work together to create great workplaces. And studies show that happy people are more successful and that happy companies make more money!

Saikat: You are popularly known as the 'Chief Happiness Officer'. How to identify the potential Chief Happiness officer in a company and what should be his job profile like?

Alex:It should be a person who is naturally happy and has a lot of energy. It should also be someone with lots of empathy and a deep appreciation for the best qualities in the workplace and its people.


Saikat: How do you define 'happiness at workplace'?

Alex:It's about positive emotions. It's when people feel energized, happy, upbeat, optimistic, proud, relaxed and cheerful at work. It's when you wake up in the morning and look forward to coming to work, rather than fearing it and wishin you could stay at home.


Saikat: In times of economic turbulence, how can the HR associates infuse happiness in the hearts of their internal customers?

Alex: There are many ways - even now with the financial crisis. It's the little things that really matter:
- praising people who do good work
- stimulating honest open communication
- making room for positivity and optimism
- allowing people to be playful and have fun at work


Saikat: What is your opinion on the Indian workforce in your country?

Alex: When I went to India to speak and do workshops I was thoroughly impressed by the people I met. The Indian workforce is tremendously talented, skilled and has a genuine desire for better workplaces.

Also, Indian culture has so much to offer the rest of the world. There is a genuine desire to excel and be happy in Indian culture that you should be sure to introduce in Indian business culture - rather than just copying American business culture.


Saikat: Tell us about your top three professional moments?

Alex: One was when I went to India to speak at a conference and do workshops with TATA. That was a fantastic trip and I met so many nice people.


Saikat: Please share a few tips with students on getting started with HR blogging?

Alex: My #1 tip is this: Blog your passion. You can only write interesting, engaging blog posts if you write about something you care about. You know the saying: "No one cares how much you know until they know how much you care!"

#2 tip: Be bold. Don't be afraid to tick people off.